Best Meditation Device For Holiday
A day without meditation is like life without oxygen, which is just another way to say that it's quite impossible.
Well, at least for me, it is unthinkable. Even before I decided to take up yoga as my profession, it was always a way of life. After all, meditation is the only way to commune with your inner self in today's fast-paced and frantic world.
However, as I was recently planning a trip abroad for vacation, I found myself worrying about how I could stick to my meditation routine while on the move. Thankfully, a quick internet search turned up a lot of products that help with meditation. And after trying out a few of them, I narrowed down my list to the top three, which I can carry easily on holidays.
Namaste! I'm Becky, a certified yoga trainer, and today I'm going to share my list of the best meditation devices for taking on holidays with you. With these products at hand, you'll be able to ensure that your meditation routine remains undisturbed.
Let's take a look!
Leaf Urban is a stylish wellness tracker that blends fashion and function uniquely. This one is especially for all the women out there who want to keep themselves centered with style. And the best part is, you can wear it as a piece of jewelry while holidaying.
Unlike most fitness trackers that focus on vital signs and parameters, Leaf Urban is more about helping you keep track of your habits, milestones, and goals. This device can track sleep, reduce stress and help you meditate, all the while amping up your fashion quotient.
It comes with a dedicated smartphone app that lets you control the device from your cell phone. This unique device packs a number of guided meditation sessions that can help you keep on track with your meditation progress during holidays.
Another aspect that I really like is that you can wear it in any way you like. Leaf Urban's design is flexible enough to allow me to wear it as a bracelet, necklace, or just a pin-on. And since it's entirely waterproof, you don't have to worry about taking it off while going for a swim or taking a bath. 
I also love how the mobile app has dedicated fitness resources for women. Overall, this is one product that you're sure to love using as well as showing off!
Believe me when I say this, I was not always the stolid meditator I am now. In fact, during my early days, I had a lot of problems concentrating while meditating. Too bad I didn't have Muse with me at that time, as it would have helped me overcome all my problems. In case you're having trouble meditating on holidays, Muse is the device that you should pack.
Let's talk a bit about what Muse is first; it's a simple headband that connects to your smartphone via Bluetooth. Its purpose is to calm the mind, soothe your senses, and help in meditating for as long as you want. 
Once the device is connected to your phone, you need to download the Muse app and start meditating. It will then measure your brain waves with specially calibrated sensors and take steps to calm you down and increase focus.
Using the app, you can track progress at every step and ensure that you're getting desired results. And since the device works for a full five hours after a single charge, you don't need to worry about finding a power outlet while on the move. Also, it works for both Android and iOS devices, so you're not limited by the kind of smartphone you use either.
Kasina DeepVision is a product that combines an ancient Pali system of meditation with cutting-edge technology. Using it, you can utilize objective visualizations to help focus your mind even amidst the hustle-bustle of any holiday destination. It helps put you in a positive frame of mind, thus allowing you to meditate for long sessions at a stretch.
The one aspect about this product that has me really impressed is its ease of use. You can use it simply out of the box without significant setting up required. Just get into a comfy position, put on the earphones and eye-frames, and start a session as per your choice. 
The device comes packed with over 70 meditation sessions that you can choose from. What's more, the ganzfeld frames that come in the package ensure zero ambient light penetration. This means you can keep your eyes open or closed during the sessions, without compromising on concentration.
Finally, I love how apart from the preinstalled sessions, you can create your own customized versions. Used in this manner, it can also be utilized to improve focus, enhance attention and deal with anger management problems.
Meditation is not merely a tool to help increase concentration and focus. Instead, it's a way of life for those who've discovered its benefits. So, a regular meditator like me would be reluctant to miss a session even while traveling.
Thankfully, with devices such as those I've mentioned above, you don't have to worry about that. Just grab whichever product you feel is suitable for your meditation needs, and start a journey towards cleansing the mind, body, and soul.
I, for one, have benefited immensely after including the above products in my travels. Not only has my meditation routine continued undisturbed, but I've also been able to discover a brand new mode of enhancing mental concentration and centering myself even in hectic situations. 
Just try them out, and I'm sure you'll love the experience. Till then, stay safe!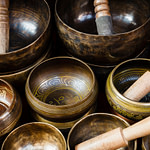 What is Meditation Bowl When i heard the Meditation Bowl sound the first time  I was truly fascinated with the
Read More »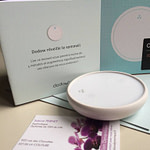 Dodow The French discoverers of the Dodow themselves suffered from insomnia and were hesitant to use sleep medication. They looked
Read More »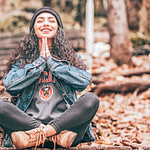 What Is Sophrology And Benefits Sophrology is a "training of the body and the mind to develop serenity and well-being
Read More »